On the record: Chris Matlock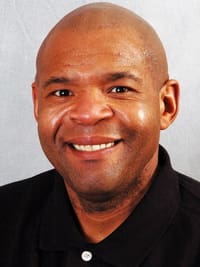 He's worked for Lou Holtz at both Notre Dame and the University of South Carolina. His first job out of college was in the NFL. He's now worked for two Hall of Fame coaches plus the Indianapolis Colts, and says the latest one, Steve Spurrier, is the best he's ever seen.
Since 2000, Chris Matlock has been the rock behind USC's football program as equipment manager, a title that vastly misrepresents the true scope and importance of his job. From helmets to cleats, from coaches' clothes to packing the 18-wheeler for road trips and bowl games, Matlock makes sure no detail goes unnoticed (he even knows which visors Spurrier likes and to pack an extra change of clothes in anticipation of Gatorade baths).
It's safe to say that no one, not even Spurrier, is more plugged-in to the day-to-day life of football in the SEC than Matlock, who has friendships with every other school's equipment managers that extend beyond the field to life off it, including them routinely calling each other, especially during bowl season, to offer encouragement to go carry the banner of the SEC and show the rest of the nation what that brand of football is all about.
Read on to find out more than you ever dreamed you'd learn about how the uniforms get chosen (spoiler alert: find out below whether USC gets a new uniform design for 2013), Steve Spurrier's superstitions and learn what happened behind the scenes when former Auburn coach Gene Chizik pulled his jersey stunt on USC in 2011 from the man known to one and all simply as "Matlock."
Gamecock Central: I can't help but notice the impressive collection of opponent helmets on the wall outside your office...Notre Dame, Southern Cal, Michigan, Nebraska, all the SEC schools, old USC helmets, a bunch of non-conference opponents from the past decade or so...how did you come by those, some insider trading?
Chris Matlock: Absolutely. When we schedule a team, I'll call the equipment guy and say, "Hey look, can we trade a helmet?" and they'll do it. We did that with Michigan here recently. We found out that Sunday, and that Monday I got on the phone with the Michigan guy and we swapped them. The Southern Cal helmet, I got that when I was at Notre Dame.
GC: You were at Notre Dame for 10 years, from 1991 to 2000?
Matlock: That's right, I started working there with coach (Lou) Holtz, then came to South Carolina when he was hired here. I graduated from UT-Chattanooga, and my first job out of college was with the Indianapolis Colts. I was an assistant there for five years, from 1986 to 1990, and I went to Notre Dame after that when Coach Holtz asked me. We had met through being at different functions, I first met him when he was a keynote speaker at a basketball tournament at my college. They had an opening, I applied and interviewed and got the job.
GC: Your degree was in psychology, correct?
Matlock: Yep, and I use it every day!
GC: What was it like when Coach Holtz called you and asked you to leave Notre Dame for South Carolina?
Matlock: Well, I was real familiar with Coach Holtz from being up there, and he said, "Hey, are you interested?" I said yes, and he said come on. For me, it was getting closer to home in Tennessee, being in the SEC and wearing shorts every day! I'm from Charleston, Tennessee, which is 33 miles north of Chattanooga.
GC: What keeps you excited to be in equipment management for as long as you have been?
Matlock: I have fun with it. It's not a job to me because I'm doing something I love that I want to do. I'm around good people who care and my bosses are unbelievable. Coach (Steve) Spurrier is great to work with - he's awesome.
GC: What's kind of input do you get from Coach Spurrier when it comes to equipment decisions?
Matlock: Take, for instance, Under Armour wants to come up with a new uniform design. They'll send me the design pattern and I'll take it to Coach Spurrier for approval, and he'll either say yay or nay. As far as running and ordering things, he says hey, you run it, you handle it. It's great.
GC: I'm a uniform nut. I love helmets and uniform designs...what's that process like from year to year in terms of making decisions?
Matlock:We just had to make that decision for next year earlier this month, as a matter of fact. Under Armour sent us about three or four different designs, and this was a major redesign. We'd just done a major redesign a couple of years ago with Under Armour. Jamie Speronis and I went to coach and told him Under Armour wanted to change the jerseys again and he said, "No, we're not changing anything." So that was easy. So I told them hey, Coach doesn't want to change. They want to do it for the marketing, so they can sell new jerseys.
GC: Did you like the new design?
Matlock: To me they weren't exciting, but to fans they might have been. Me, I'm a traditionalist. The plainer the better. I like Alabama, Notre Dame, Penn State, those kinds of uniforms. Personally, I think it's an arms race. Under Armour comes out with something, and Addidas has to come out and combat it. That's what I think it is. Look at Oregon. I mean, come on. Platinum? Their color is not platinum. It's ridiculous.
Their budget for that is huge, because you have to remember, you're buying a helmet for every guy on the team because you never know whose dressing from week to week. You have 105 guys on your roster, 105 guys need helmets. That's a lot of equipment, but with (Nike chairman) Phil Knight there as an alum, that's no concern for them like it is for other schools.
GC: Speaking of uniform choices, how is the decision made for what uniforms to wear for a particular game?
Matlock: We'll go to coach and ask him what he wants to wear. Take the bowl game, for instance. We go down to coach Spurrier and say, "Michigan is the home team but they've chosen to wear white uniforms. So we're the visiting team but can wear the garnet jerseys. What color pants do you want to wear?" And he'll go to the captains and ask them, and then boom, they chose the garnet. But from a CYA (cover your a--) perspective, we packed both pants. So we're wearing what we call "big-game garnet," the all-garnet uniform.
GC: The black jerseys never seem to get much love. Why is that?
Matlock: I don't know. They did come out of the closet once this year with an event for kids, but that was it.
GC: And they had to be worn last year against Auburn, when the officials complained they couldn't see the backs of the special Under Armour Wounded Warrior jerseys.
Matlock: The toughest part there was because they're so skin-tight, physically getting them on and off the kids so fast. We found out when we went out for pre-game warmups, the Auburn coaches were complaining, and they called the league office, then the league office called us and told us we had to change because supposedly you couldn't read the numbers from the press box. I know good and well Gene Chizik did that on purpose. He was messing with us, in my opinion.
I went and told Coach Spurrier we had to change uniforms, and he said, "Let's go with garnet." But we couldn't, because we had 10 or 12 of them still getting sewn up from the last game. So he said, "OK, let's go black." Me and my assistants went in and got the players changed in about six or seven minutes, which is incredible.
GC: Spurrier seems to be superstitious about certain uniform combinations and not liking to wear ones he loses in. The black jerseys have only been worn the once, I believe, and until the Clemson game he hasn't been crazy about the all-white, either, which I think look great. What changed there?
Matlock: I went to him and he said, "We haven't worn all-white in a long time. Let's change our luck." Boom. The last time I checked we wore all-white we got beat, I think. We wore it against Auburn when Antonio Heffner was the quarterback and the other one was against Iowa in the Outback Bowl. We did wear it against Ole Miss down there. But we hadn't worn it in a long time, and coach wanted to do something different. We didn't even pack the garnet pants. We wore the all-white, and it looked awesome. It looked really good.
GC:Those gray jerseys from the LSU game, what happens to those?
Matlock: We have them in storage here. What we'll get to do is keep them until a kid is a senior. All the kids who are seniors this year, they'll get to keep their jerseys this year, and the other kids will get their when they graduate.
GC: How exactly did that happen in terms of who got the say-so on when those jerseys would be worn?
Matlock: They proposed for us to wear those jerseys against LSU because they knew LSU would wear white. They thought they'd be darker, but not too dark in case it was hot. We knew before the season which game we'd wear them in, and when we got the sample in, we sent it to the conference office to make sure no one would have any issues like we did with Auburn. That wasn't going to happen again.
GC: For the bowl game, do the players get to keep those jerseys as well?
Matlock: They do. We went down for a site visit earlier this month and they gave us the patches then which I brought back on the plane with me and our seamstress sewed on here.
GC: I see here in your office you have a framed Outback Bowl jersey with the number "01" on it.
Matlock: Yeah, that was my first bowl game here in 2001. Each bowl game that we have, I put the year on the number, and everywhere I've been when we go to a bowl game I do that and have it framed. This year, I'll have a jersey with "13" on it and the bowl patch. I have the one here in the office, the rest of them I have on the wall at my house. From South Bend, I have 91, 92, 93 and 94 and on. I have Sugar Bowl, Orange Bowl, Cotton Bowl, a Fiesta Bowl. The year we played Colorado in the Fiesta Bowl, 1995, I think, we had the green jerseys, and that was awesome. I have that framed.
GC: A lot of schools do the occasional throwback uniform to honor past teams. Has that been considered here?
Matlock: (Spurrier) hasn't said anything about that. More than likely, those are suggestions from the manufacturer, like when Under Armour came with the suggestions for the Wounded Warrior jerseys. We've had no success in them. We wore them against Florida and lost, and the other one was the Auburn game and then the special jerseys for the LSU game. I don't know if we'll do that much anymore.
GC: That all-garnet uniform, I don't know what the record is in it, but off-hand I can't remember the last time USC lost in them.
Matlock: I know we lost with the garnet tops against Arkansas last year here, but that was with the white pants. Big-game garnet is what we call it, and it works for us.
GC: What's the most fun part of your job?
Matlock: I have fun every day, laughing and joking with the kids and seeing them grow up, mature. I get to work with great people, and it's fun, just real fun. That's what it's all about. I have great friends around the conference, and when we're not playing each other, we're calling to congratulate each other and especially in bowl season, we'll call each other and say, "Hey, Florida, go win that Sugar Bowl. Go get 'em." And people will call me up and say, "Hey, Matlock. You guys got Michigan. Go get 'em. Bring it home." It's great having that conference pride.
GC: You're in the enviable position of working as closely with Spurrier as anyone not on the coaching staff. What's he like when the cameras aren't around?
Matlock: He's awesome. Unbelievable. People would not have a clue. It's like we talked about, when you come to work you forget you're at work when you're here because it's so much fun, he's having so much fun and is fun to be around. He's a relaxed guy around us because we all know each other so well. I'm having a blast, and I think he is, too.
For me, the key to happiness in life is working for good people, and I have that right here. I love Columbia, and I love my job. I'm a happy man.
ALSO SEE: