Auburn players reflect on losing Muschamp, others to South Carolina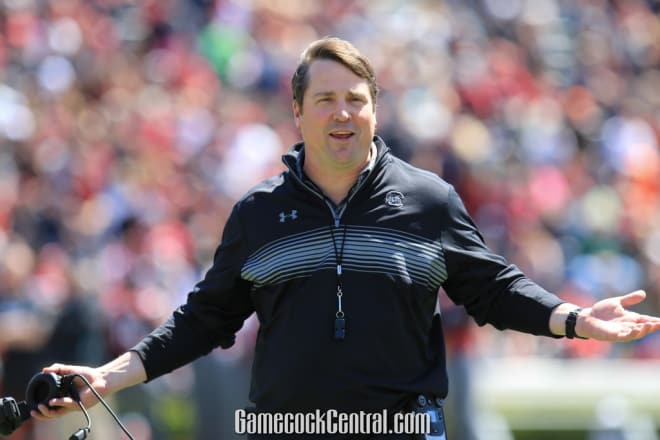 When Will Muschamp left Auburn for South Carolina in December, he took more than just his family and belongings with him.
The first-year coach brought with him three coaches from Auburn's staff; Bobby Bentley, Travaris Robinson and Lance Thompson all made the trek from the plains to the capital city.
***Not a GamecockCentral.com member and want to get all the scoop? SUBSCRIBE NOW!***
That left the Tigers without their defensive coordinator, offensive analyst, cornerbacks coach and linebackers coach. Now, they have to regroup and learn a new system under Kevin Steele, who was LSU's defensive line and linebackers coach last season.
"It's an easy transition. And you have to change every year, even in the NFL guys change coordinators a lot. Him taking the job at South Carolina was a great opportunity for him and his family. Then again, we have to adapt," Auburn defensive lineman Carl Lawson said. "It's an easy transition. We're going to be a better defense than we were last season."
Lawson said Steele's system is similar to Muschamp's, saying the only big difference is the verbiage each coach uses.
Muschamp served one year as defensive coordinator at Auburn before getting his second chance as a head coach. Him leaving was a little bit of a shock to Montravius Adams.
"It was crazy because we all love Coach Muschamp. He was a great coach," the defensive lineman said. "But at the end of the day, we knew we had to come together as a team. Time after time, coaches leave and we know that as players."
Muschamp's known for his fiery personality, his tirades on the sidelines and animated faces when coaching. Adams is no stranger to his antics, saying he once saw Muschamp break a clipboard in half in the locker room.
"We wasn't executing on defense as well as we should have," he said, flashing a smile.
Muschamp assembled his coaching staff soon after he was hired and they have been working on improving a defense that was porous at times last season, ranking No. 94 in total defense last season.
He, Robinson and Thompson all coached an Auburn defense that ranked 71st nationally in total defense.
The Gamecocks begin their season Sept. 1 when Muschamp and the rest of the staff—former Tigers included—head to Nashville to play Vanderbilt. And Adams said the Gamecocks should get ready for a guy who can restore the team to it's winning ways.
"They're in for a great coach. They need to keep that program how it is and winning," Adams said. "D-line wise, he's going to make them better. He was always there for anybody. He was always that team player."
Never miss a moment with the GamecockCentral app: App Store - Google Play